Marco Island, Florida
Fishing - Marco Island, the Everglades and 10,000 Islands Florida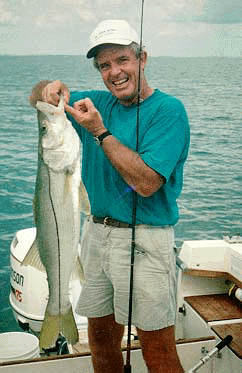 Featured Photo - Capt. Bill Walsh - Dawn Patrol Charters
---
Come on in, the water's fine -- for fishing! Yes, the temperate waters of the Gulf of Mexico provide a good year-round environment for a large number of catchable fish species. Check out the map of the 10,000 Islands area and note that Marco Island is the northern gateway to this pristine coastal wilderness. Whether your preference is fishing offshore over the wrecks or stalking lunkers in the backwaters, there's plenty of room for fishing in solitude.
Marco Island and the 10,000 Islands have many experienced guides to help you catch that trophy. But if you want to explore on your own, there also are plenty of marinas and tackle shops for boat rentals, tackle and advice. And, if you would prefer, there are places where you can fish without a boat. Some of the more popular spots are near the two bridges connecting Marco Island with the mainland. Many people also fish the myriad canals which criss-cross Marco Island, especially where and when the tidal currents are relatively strong. The beaches can also be productive, especially at dawn and at dusk. Whether your preferred technique is fly, spin, plug or bait, you will enjoy fine fishing in a great environment.



Featured Fishing Report
Capt. Bill Walsh - Dawn Patrol Charters - July 2015
CONDITIONS: It's just mid July and the water heat already rules our fishing. Looking back at our records for prior years the water temps were uniformly in the low eighties this time of year........there are some days now that those backwater temperatures can run into the nineties mid afternoon. The fish react to that heat.......they avoid it. How ? First, they start feeding early......at first light which somedays is ninety minutes before published sunrise; secondly, they will move to areas shaded by overhanging trees / shrubs and feed there and lastly, they will go into deep cuts and and channels where the water would be five to six degrees cooler and cease feeding. So this should give you some hints on where the fish are hiding these scalding hot days. Other conditions are normal for this time of year. The tides are moderate even through the new and full moon cycles; the winds are weak; easterly in the AM and then switching onshore (westerly) in the afternoons. All of that keeps the water nice and clean. So, bottom line, the water heat is your nemesis and will only get worse as the summer takes full hold.

BACKWATER: Your best targets now are the "S" guys.....Snook and snapper. Sure, you have a fleeting chance to get into other species but most of that will be singular and infrequent in nature. Those other species could be black drum, Florida pompano, mackerel, flounder or even a reddish. So, back to the "S" guys.......focus on them; if the infrequent show up that will be your bonus. The snook are BIG this time of year with many of them over the slot maximum (if the harvest season was open; unfortunately it isn't; not till September 1st for us here on the SW coast). Gotta get your live pilchards / sardines early also for they hide in the heat also. Best chance for a big snook is out along the Pass entrances and the beach edges between Gordon Pass in Naples and Blind Pass on Kice Island with live bait in the cool of pre-dawn. Later in the day you will find juvenile snook in the 18-22" class on just about any current spot inshore; on either tide. The snapper are more universal and are just about on every mangrove edge in creation now and jumping on well presented shrimp, live bait and even artificially. NEARSHORE: The depth of the water out here in the 2-5 mile offshore area adds a slightly positive factor for the fishing quality potential. Deeper water is cooler than shallow......so species can range and feed in their area of comfort. Mackerel have been a usual mainstay out here this time of year but not this time around. You may see a few mackerel show and hold in a good chum slick for awhile and you'll even land a few but all of a sudden they will skidder away. Some days it works better than others. A Hot Spots chart sold at the Rose Marina will help you ID some good spots. Mackerel are suckers for a fast retrieved top water jig right through the slick. Snapper, both lane and mangrove, will be here also working at the depth layer beneath the jacks and taking a tipped jig worked just off the bottom. OFFSHORE: Of the three fishing domains, this one holds the most potential for bigger fish success. The long term adversary out here was the wind which created rough sea conditions and those bothersome winds are a non event this summer.......so, the potential fishing quality out here is considered very good to excellent. Top targets continue to be the cherished red and gag groupers. The reds like warm and are most likely to to feeding on the hard bottom in 55-60' of water and will jump on a well presented live pinfish. The gag grouper like things a little chillier and will be taking the same baits in 65-70' of water. Then on some of the deeper wrecks you'll get a look at some tough pelagics, namely the kingfish and cobia. Both will be feeding on the assembled bait on the wrecks and going for live bait soaked in a serious chum effort.